NEWS
EVENTS
International cooperation
Another Success!-A Global Feast of Die-casting and Nonferrous Casting
time:2016-11-11 read:1653
'The 11th China International Die-casting Exhibition' (CHINA DIECASTING 2016) and '2016 China Non-Ferrous Alloys & Special Casting Exhibition'( CHINA NONFERROUS 2016) were held during July 12-14 2016 at Shanghai New International Expo Center with great success.
The exhibition was sponsored by China Mechanical Engineering Society and organized jointly by FICMES and Nurnberg Messe China.
295 exhibitors demonstrated their latest products and technologies at the show of 23,000 sqm and attracted 12,027 professional visitors.
Focusing on Highly Specialized and Value-adding Diecasting Platform
Rapid growth of the exhibition, with an area of 23,000 sqm (an 27% increase), 295 exhibitors ( 15% increase). 30% of the exhibitors are from 19 overseas countries ( Germany, Italy, japan, USA, Switzerland, France, Britain, Sweden, Korea, Austria, Canada, Malaysia, Thailand, Spain, India, Slovenia, etc.). Aimed at the huge potential of China die-casting market, China Diecasting 2016 has been a truly international platform for the leading companies in die-casting industry.
Growing scale and influence of the exhibition
State-of-the-Art Technologies Under One Roof
Products with state-of-the-art technologies under one roof cover the whole process of material, melting, casting, peripherals and automation, post-processing and inspection. Die-casting machines launched an all-star show. Scheme display of 'Robotics for men', 'Simulation' , Non-destructive Inspection' picturized the profound vision of intelligent manufacturing. Doubled area of mold-casting zone revealed increased enthusiasm by die-casters and mold-makers.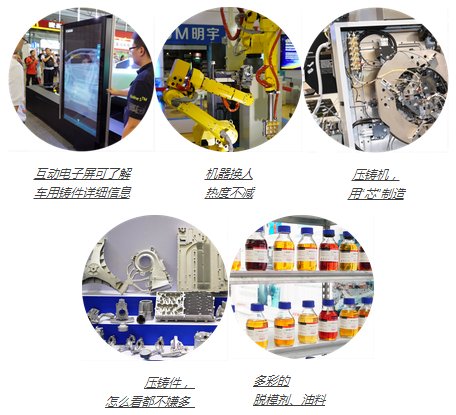 Sales Closure on Site
Exhibitors put up banners to celebrate sales of the exhibits on site. Buyers were ready to close deals from information from news coverage of the exhibited products by all media.
Frech Machine sold on site
Hydeb Machine sold
Professional Visitors Bring Opportunities
Recorded number of visitors increased by 43% to 12,072 persons from automotive, electronics, communication, medical, metal processing and toy industries. Visitors are better prepared for more effective visits and business discussion. Exhibitors are satisfied by quality and professionalism of visitors, longer stay and seriousness of purchase discussions.
Value-adding Concurrent Events
The concurrent events of match-making, trouble-shooting workshop, and casting competition brings added value of visits for buyers and engineers.
The 2nd China Foundry Science and Technology Achievements Trade Fair
This is the first time the trade fair held on site of the exhibition. 17 universities and institutes displayed and presented their technical achievements to interest visitors. Both were happy with the opportunity by this new platform. Besides on site discussions, participants expressed their intentions of continued communication and cooperation.
Best Die-casting Competition
As the most influential and highly recognized brand-building event, it received 55 die-casters application and 113 items for the competition. At the display area, the expert committee evaluated each of the items by checklists and mark points. 'Gold prizes were awarded to 4 items and 'Excellent Awards 'to 16 item. Visitors were also marled by the full gallery of die-castings for competition.
Match-Making Events
2016 Mold and Die-casting Match-making
36 buyers and 200 mold and casting manufacturers participated. Most of the buyers reached agreements with suppliers to continue with quotation and visits, according to the survey .
Gasgoo Automotive Light Weight Match-making
Voith Turbo, Pohang Austem and other leading buyers gathered with nearly 100 suppliers of castings and metallic materials for in depth discussion on production capacity, technical capabilities, equipment, human resources and
Trouble Shooting Pairing
4 senior die-casting experts were on site to answer questions from die-casting engineers concerning mold design, product development, process, defects and other issues.
Voices from Exhibitors
L.K. Group Shanghai Yida Machinery
'The scale, amount of visitors and visitor professionalism are all-time high. L.K. die-casting machine, post-processing and automation display are applauded and appraised by visitors and customers for advanced design and excellent functionality. Very fruitful for us. Heartfelt thanks to the organizer for such an excellent marketing platform'.
Fondarex China General Manager Mr. Zou Zhihou
"We participated FICMES die-casting exhibition every year since Fondarex funded in China and every year our expectations were exceeded. As the leading exhibition of die-casting, FICMES exhibition provided us with an excellent marketing platform. It is also a learning opportunity for us. We learn from the experts and other good companies in the industry. The round table forums this year is very impressive and inspiring. Fondarex will continue with FICMES hand in hand for even better future.!
Mr. Ma Baoqin , Founder of BMC
"We had a lot of visitors. Streams of them. We were overwhelmed for a time. Our proprietary die-casting machine made a successful debut and won respect and recognition.
Weldstone CEO, Mr. Thomas Hoehn
"Now even so shortly after the show starts, we can already see that is has been a full success. High quality visitors, interesting contacts and last but not least a highly professional management of the show and all side events.
Ms. Wang Jie, Idra Group
"Congratulations on the success of China Diecasting 2016! Undoubtedly this is an unprecedented expo of die-casting, with participation of all the leading companies !It shows FICMES influence in the industry and importance of China in global die-casting. It is wonderful gallery of new technology and products. Idra exhibits our latest technology each year at this platform. This year, for example, we highlight our Injection Computer 3.0 system as a powerful tool for Industry 4.0.
Our sincere thanks to FICMES for their hard work and the wonderful platform. We expect the success of the expo will continue for the years to come.
A Grand Feast to Continue
The 3-day CHINA DIECASTING 2016 has concluded. Next year, the expo will be held at the same site July 19-21, 2017. We will continue to offer the best service to all die-casting and nonferrous casting related participants. Thank you all for your support!